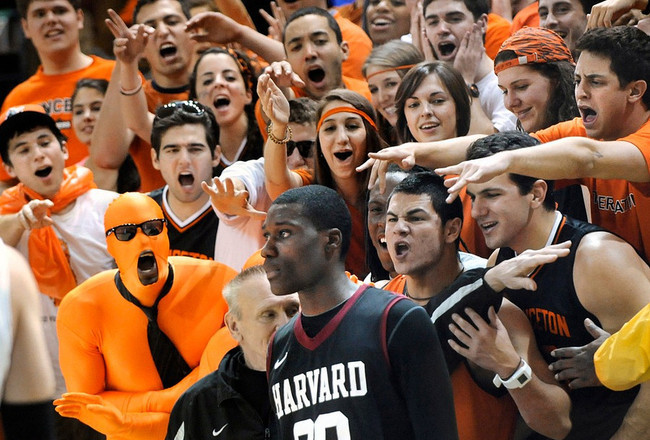 Kyle Casey, seen in last year's playoff game between Princeton and Harvard (image courtesy of Harvard Athletics)


Harvard (21-3, 7-1)
– Harvard has not won a game at Princeton in 23 years, and this ignominious trend continued as Harvard fell to Princeton Saturday night. The Crimson could not find an answer for Ian Hummer, and Laurant Rivard, Harvard's main offensive option, was cold from the floor all weekend (0-8 from the 3PT). Their ultimate downfall? Harvard managed only 11 FTs, including a 1-5 outing from Casey, compared to the Tiger's 24. A Cornell upset over Yale still keeps the Crimson atop the Ivy League, and the Crimson puts a 25 game winning streak at Lavietes on the line against Brown and offensive powerhouse Yale.
Yale (16-6, 6-2)
– The Bulldogs salvaged a potentially devastating road weekend after a heartbreaking 85-84 loss against Cornell with a 59-58 escape at Columbia, leaving their destiny in their own hands. The Lions tactic of possession control to burn up the clock stifled the formidable Yale offense, but after trailing by 21 with 11 minutes left, Willhite, Mangano, and Morgan turned up another engine, culminating with a Willhite game-winning layup with 13 seconds left. The Bulldogs won't get similar opportunities against the Crimson next weekend, a team known for improved stat lines in the last 5 minutes of games.

Penn (13-11, 5-2)
– Despite a relatively poor shooting night by his standards, senior guard and Ivy League MVP candidate Zack Rosen continued to play in a different dimension, draining a 3PT with 3.4 seconds left to lift the Quakers over the surprisingly relentless Big Green. However, Penn continues to play in streaks, as evidenced also on Friday against Harvard; the Saturday game was marked by 11-2 run for Penn, 14-1 run for Dartmouth, and 8-0 run for Penn. The Big Red, having won 3 straight now, will be a tough home contest for the Quakers next weekend.

Princeton (13-10, 4-3)
– Ian Hummer led the team in scoring, rebounds, and assists (20, 9, 6) to will his team to victory against the favored Crimson Saturday, making a statement about Princeton's continued presence in the Ivy League's elite. With five players in double digit scoring, the Tigers spread the ball, played excellent perimeter defense (kept the Crimson 5-18 from 3PT), and consistently executed plays to increase the touches for Hummer. Despite an off-night by Davis, the hero of last year's playoff victory against Harvard, Princeton is picking up momentum at the right time.

Cornell (10-12, 5-3)
– Despite the list of injuries that have depleted Cornell's roster, in particular its frontcourt, the Big Red's guards put on a shooting clinic for the visiting Bulldogs. Gray and Wroblewski, who combined for 47 total points (8-12 from 3PT), kept Cornell in contention while the defense successfully contained Mangano by double teaming him at apt times. A Wroblewski 3 in OT sealed the deal on Friday, and they took care of business Saturday against Brown. Cornell, in what should be an off year, is having its say in the Ivy League.

Columbia (14-10, 3-5)
– Brian Barbour continues to challenge Rosen for the shooting crown in the Ivy League with an 18-point performance against Brown, but the Lions defense squandered a 21 point advantage after 9 minutes in the second half, allowing the Magano-Willhite-Morgan Cerberus to score from the paint freely (albeit keeping the Bulldogs 3-15 from 3PT). Their next three opponents are Penn, Princeton, and Yale, all on the road; better look at the tape to capitalize on their talent and the successes of their tempo-controlled offense.

Brown (7-18, 1-7)
– A 2-11 stretch, with 5 straight losses, has the Bears reeling from game to game. Like the Big Red, injuries have taken a serious toll on a once promising roster, with 9 players out for multiple stretches of the season, but Junior guards Stephen Albrecht and Matt Sullivan have stepped up in leadership positions, both offensively and defensively. Lavietes is a tough place to play…

Dartmouth (4-20, 0-8)
– A 1-13 stretch, with 7 straight losses, has the Big Green wishing for next year already. However, is the close 58-55 loss against Penn a harbinger of wins to come? They rallied back from a 15-point deficit, with Freshmen Jvonte Brooks posting a double-double (18pts, 10rbs), and the 27ft heave from Rosen was definitely a miracle on court. A welcome 4-game homestand with the hapless Bears coming next weekend may be the ultimate chance to salvage a winless season.